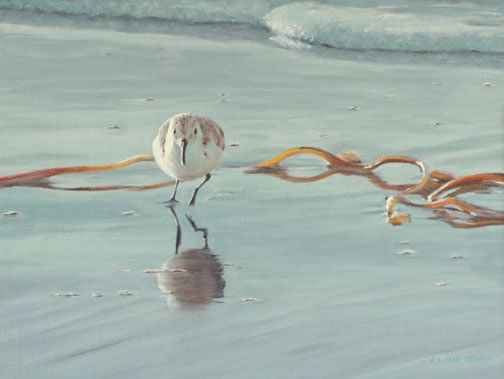 Timothy David Mayhew is an award winning artist from the four corners area of New Mexico, located near the borders of Arizona, Colorado, and Utah, giving him a uniquely varied environment in which to work.
Mayhew and his artwork have been featured in many prestigious fine art journals including Southwest Art, Western Art and Architecture, and the Gray's Sporting Journal.
He has received many awards and honors for his artwork, including the National Museum of Wildlife Art's Trustees' Purchase Award in 2014, the Artistic Excellence Award from Southwest Art in 2011, and the Robert Kuhn Award from the National Museum of Wildlife Art in 2010. His artistic contributions to the State of New Mexico were recognized in 2011 by a resolution of the Legislative Council of the State of New Mexico in Santa Fe.
Mayhew's artwork has been acquired by several prestigious museums including the National Gallery of Art in Washington, DC, the Boston Museum of Fine Arts, the Philadelphia Museum of Art, the National Museum of Wildlife Art, the Leigh Yawkey Woodson Art Museum, the Fogg Art Museum at Harvard University, and the University of New Mexico's Museum of Fine Art.
Mayhew's notable solo and group exhibitions include the National Museum of Wildlife Art, the Birds in Art exhibition at the Leigh Yawkey Woodson Art Museum, the Cheyenne Frontier Days Old West Museum's Western Art Show, the Settlers West Miniature Exhibition, the Thomas Gilcrease Museum, Trailside Galleries' Masters in Miniature Invitational Show, the Saks Galleries' American Art Invitational, the Leumeister Fine Art Exhibition, the Evansville Museum of Art, the Nicolaysen Museum of Art, the Bradford Binton Museum, and the Art of the Animal Kingdom.
Mayhew has been listed in Who's Who in American Art since 2006, and he was inducted as a signature member of the National Academy of Professional Plein Air Painters in 2007. He was the Lanford Monroe Memorial Artist-in-Residence at the National Museum of Wildlife Art in Jackson Hole, Wyoming in 2010. His undergraduate studies were done at the University of Michigan and he received a doctorate in 1978 from Wayne State University.
To expand on his formal education, Mayhew sought out and studied with some of the finest contemporary masters of art. He values his years spent studying with the renowned animal painter, Bob Kuhn, where he learned how to observe and understand the behavior of animals in their natural environment, and credits his time spent drawing animals with Kuhn for instilling in him the importance of drawing from life. Mayhew also studied landscape painting en plein air from Clyde Aspevig and Matt Smith to learn how to depict the natural environment.